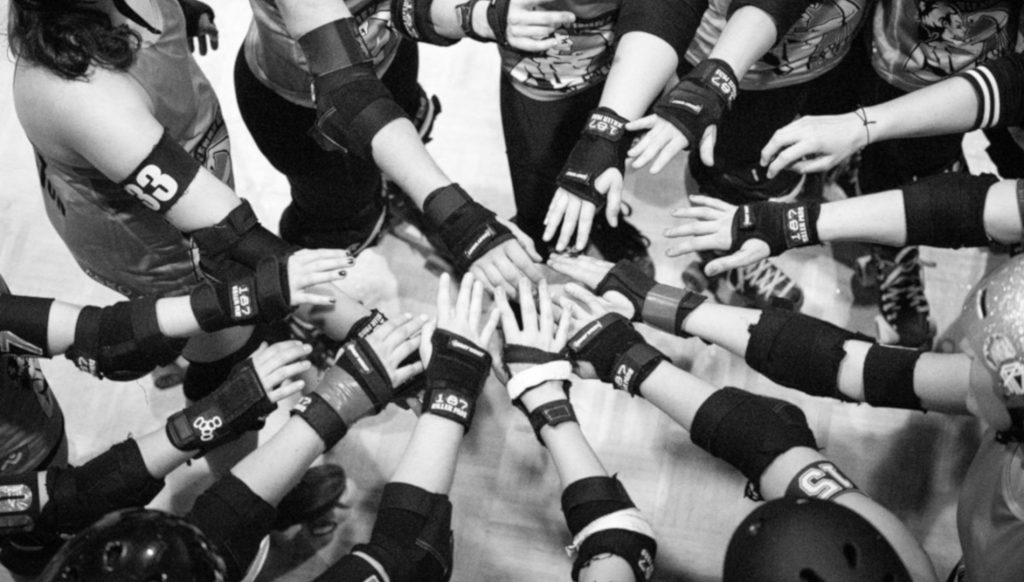 Within the course of only a few weeks putting the hands together for a simple team cheer went from natural to being loaded with totally different meanings… A couple of days ago we wanted to release our season plans to inform you about all the cool games we had scheduled at home and away. No need to explain anymore why for now we had to cancel all of it and why we also stop our practices and league activities for at least two weeks. As sad and heartbroken as we are about the situation we have to acknowledge that this is not about us not being able to pursue our passion in sport but about those who are impacted by the virus spreading through our communities.
We will make good use of hours not spent on skates or not playing or being engaged otherwise in games or practice to grow on different levels. Other teams already shared awesome suggestions about what we can do in the meantime: watch footage, deepen our rules knowledge, do off skates exercises at home, write strategy books, bond with our team mates via sending love messages 😉 We are keeping our derby brains busy in order to come back stronger!
Unfortunately, we still have to inform you that none of the planned bouts and events can take place this season 🙁
21.3. – Season Opening: Beasts vs. The AnguanaASS B-SIDE (CANCELLED)
18.4. – Away Triple Header Vicenza – Oysters (CANCELLED)
25.4. – Home Triple Header – Oysters (CANCELLED)
16.5. – Away Triple Header Bergamo – Beasts (CANCELLED)
30.5. + 31.5. Away Tournament Brawcelona – Oysters (CANCELLED)
20.6. – Home Double Header – Beasts & Oyster (CANCELLED)
But even if no bouts and events will be happening, we will keep up to date about our home activities and, when time has come, the plans for next season on our channels! We send our love to the derby community and strength to those who face severe consequences due to the current situation. We are virtually putting our hands together for a MASSIVE cheer: GEMMA GEMMA GEMMA, derby spirit no matter what!
Stay safe and cu soon!
PS: Here you can always find the latest COVID-19 health recommendations and guidelines for the international roller derby community by the WFTDA: https://resources.wftda.org/covid-19/