Thanks for your interest in becoming a part of our league! We invite all women and those who do not identify with the gender binary to join the team's newbie class as skaters. We also invite people of all genders who are interested in skating to join VRD as a referee and they may attend the newbie class to learn the necessary skating skills. Finally, anyone who would like to become a part of the roller derby community but does not want to or is not able to skate is invited to join VRD as a non-skating official (NSO) or help as a volunteer at events etc.
SKATERS
You want to skate? Perfect! The official start of our newbie class is in September, but it is also possible to join the class throughout the year. No previous knowledge or skating skills required, minimum age is 18. During the course of the classes from September through May we will teach you all the skills necessary to be a VRD skater. Skating class takes place once a week for two hours and attendance at our off-skates sessions with the rest of the league is required for taking the MST (minimum skills test). We will offer at least two possibilities to take the MST in December and May, which are required in order to be cleared for full contact and joining team training. You can find more info on the required minimum skills here: https://wftda.com/the-game/training/
Check here for upcoming open house days to try out skating: Next dates tba!
For more info and further questions don't hesitate to contact us: recruiting@viennarollerderby.org
---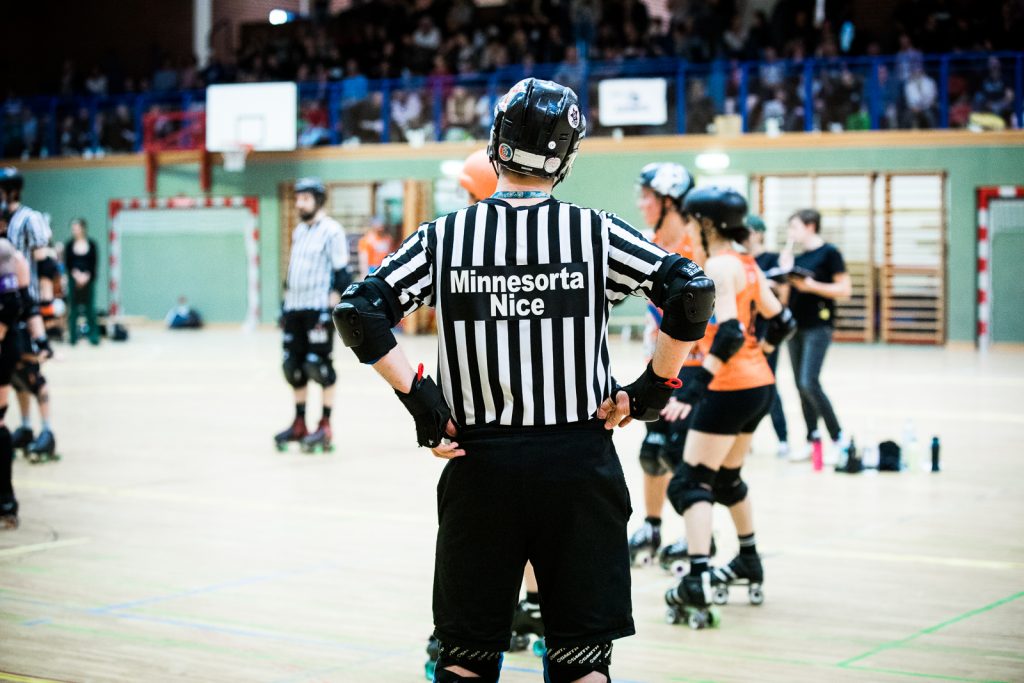 OFFICIALS
We invite people of all genders to join Vienna Roller Derby as a Zebra (Skating Referee) or NSO (Non-Skating-Official).
Zebra. You count the points and give penalties. Without you we can't play! You make sure the game is fair and safe. Being a roller derby referee is challenging, yet exciting, fast-paced and fulfilling. As a referee you can connect with other roller derby communities around the world, reffing games in cities a couple hours away or across the ocean! No previous experience is necessary– you can learn to skate and the Way of the Zebra here with us at VRD. Ready to rock some zebra stripes? Message us at officials@viennarollerderby.org.
NSOs. If you want in on the roller derby action but don't want to roll on 8 wheels, then perhaps a job as a non-skating official is right for you! NSOs work closely with referees during the game to track and record important game data, such as penalties and score. Without NSOs the game would not be possible! Interested? Email us at
Pics by Franz Reiterer & Renate Schwarzmüller