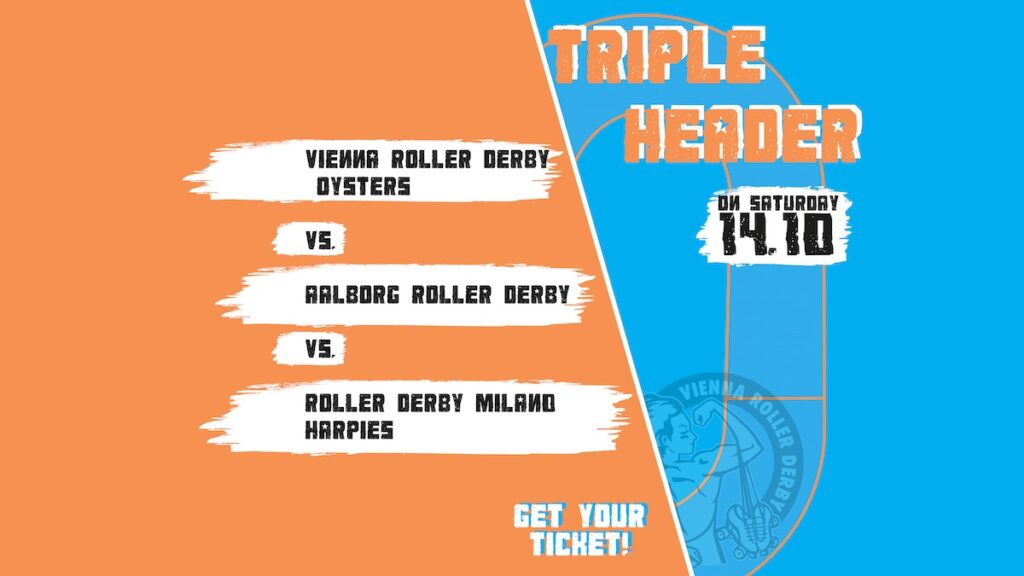 Our Vienna Roller Derby Oysters are playing a Tripleheader Homebout!
Don't miss this Derby Event with our guests from Aalborg Roller Derby (Denmark) and Harpies Roller Derby Milano (Italy).
Three Games, Triple the fun!
Location: Theodor-Kramer-Straße 3, 1220 Wien
💥 SCHEDULE
12:00 Doors open
12:30 Harpies Roller Derby Milano vs. Aalborg Roller Derby
14:40 Aalborg Roller Derby vs. Vienna Roller Derby Oysters
16:50 Harpies Roller Derby Milano vs. Vienna Roller Derby Oysters (Halftime Show by Fearleaders)
💥 TICKETS
Reduced (Students, Kulturpass, or similar): € 11,00
Normal: € 13,00
Kids under 14 have free entry (Caution: bring ear protection!)
If you can't afford the entry contact us and we'll find a solution
We love dogs but they don't love our noisy games. Sorry but no derby for doggies 🐕.
💥 ACCESSIBILITY
We provide a space for wheel chairs and extra seats directly at the track. At the entrance to the track area there is a small step. There is another way to the track area though via the locker room of the players. We can help with both possibilities. Barrier-free toilet is available on the ground floor.
💥 LIVESTREAM
You are not in Vienna? Lucky you, there will be a livestream of the games – even with commentators! Watch us online here: https://wftda.tv/ and here https://www.twitch.tv/wftda
Thank you WFTDA and Quad Media for making this possible <3<3<3
SUPPORT YOUR LOCAL ROLLER DERBY.
Bring your friends and watch us skate!
DerbyLove <3
Vienna Roller Derby

And don't miss our Afterbout Party in Fluc! It will be legendary:
// donation based entry //
NO SEXISM, NO RACISM, NO ABLEISM, NO AGEISM, NO HOMOPHOBIA, NO TRANSPHOBIA, NO FATPHOBIA, NO CLASSISM.
Vienna Roller Derby is committed to creating a welcoming and inclusive environment. And ask for pronouns!