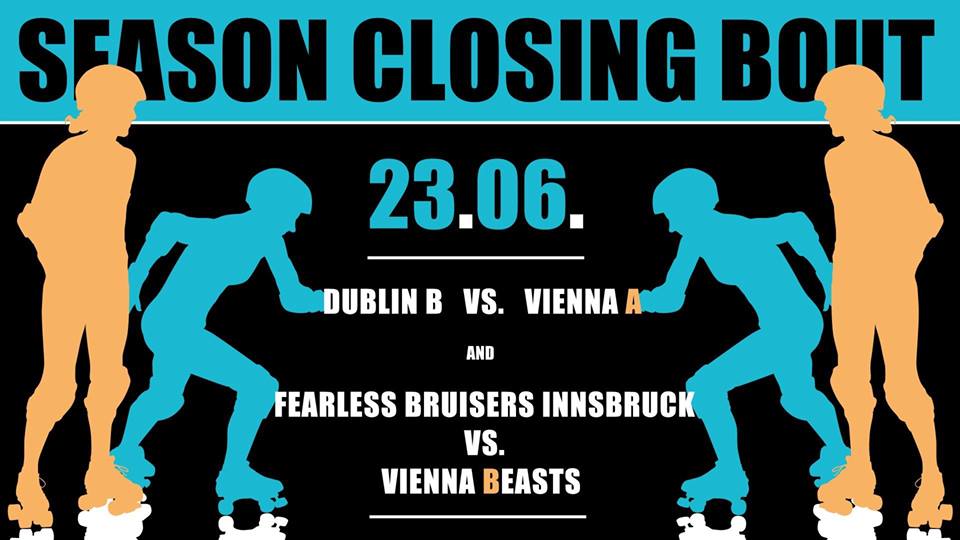 SEASON CLOSING IS NEAR! For our "grande final" of the spring season 2018 we invited two great teams to challenge our A and B squads: Dublin Roller Derby B and the Fearless Bruisers – Roller Derby Innsbruck. Let's hit the track together one more time and sweat it all out before we disappear into the heat of summer break!
WHEN: Saturday, 23rd of June 2018
WHERE: AHS Theodor Kramer, Theodor Kramer Straße 3, 1220 WIen
*** SCHEDULE ***
14:30
Doors open
15:05
Fearless Bruisers Innsbruck vs. Vienna Roller Derby Beasts
17:30
Dublin Roller Derby B vs. Vienna Roller Derby Oysters
MVPs: Most Valuable Player Awards Ceremony at the Afterboutparty! (TBA)
*** TICKETS ***
Online ticket sale: From Monday, 4th of June, 9am.
Be on time to get one of our limited early bird tickets!
https://ntry.at/doubleheader
EARLY BIRD: € 7,66 (incl. ticket fees)
NORMAL PRESALE (Vorverkauf): € 8,75 (incl. ticket fees)
LAST MINUTE (Abendkassa): € 10
Kids under 12 have free entry (caution bring ear protection!)
Für Kinder unter 12 Jahren ist der Eintritt gratis (bitte Gehörschutz mitbringen)
*** AT THE BOUT ***
* Live roller derby action
* Live announcers
* Snacks/drinks
* VRD MERCH: t-shirts, caps, college jackets, braceletts and pins – we got one for everyone
* Free bout program
SUPPORT YOUR LOCAL ROLLER DERBY.
Bring your friends and watch us skate!
AFTER BOUT + Season Closing PARTY: Pop Some Derby Love ♥ https://www.facebook.com/events/1147956765347162/
With lots of DERBY LOVE,
your one and only VRD ♥
******************************
FEARLEADERS
Want to know if there will be a Fearleader show this time?
Stay tuned we will inform you as soon as possible!
ACCESSIBILITY/BARRIEREN
We provide a space for wheel chairs and extra seats directly at the track. At the entrance to the track area there is a small step. There is another way to the track area though via the locker room of the players. We can help with both possibilities. Barrier-free toilet is available on the ground floor. Snacks/drinks are placed in the first floor without elevator but we are very happy to help out, please don't hesitate to ask our contact person at the entrance or contact us in advance for more info.