Location: Theodor-Kramer-Straße 3, 1220 Wien
💥 SCHEDULE 18.11.2023
11:00 Doors Open
11:15 SBG Knock Outs vs. Dust City Rollers
12:50 Steel City Rollers vs. Vienna Roller Derby
14:25 SBG Knock Outs vs. Vienna Roller Derby
16:00 Fearless Bruisers vs. Steel City Rollers (Halftime show: Dust City Dancers)
17:35 Dust City Rollers vs. Fearless Bruisers (Halftime Show: Powerjam)
💥 SCHEDULE 19.11.2023
09:30 Doors Open
09:45 SBG Knock Outs vs. Steel City Rollers
11:20 Steel City Rollers vs. Dust City Rollers
13:00 SBG Knock Outs vs. Fearless Bruisers
14:40 Vienna Roller Derby vs. Dust City Rollers
16:20 Fearless Bruisers vs. Vienna Roller Derby (Halftimeshow: Fearleaders)
17:30 Award Ceremony (supportet by Musikarbeiterinnen Kapelle)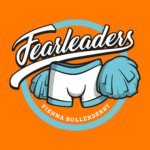 💥 TICKETS
If you can't afford the entry contact us and we'll find a solution!
We love dogs but they don't love our noisy games. Sorry but no derby for doggies 🐕.
💥 ACCESSIBILITY
We provide a space for wheel chairs and extra seats directly at the track. At the entrance to the track area there is a small step. There is another way to the track area though via the locker room of the players. We can help with both possibilities. Barrier-free toilet is available on the ground floor.
SUPPORT YOUR LOCAL ROLLER DERBY.
Bring your friends and watch us skate!
DerbyLove <3
Vienna Roller Derby

NO SEXISM, NO RACISM, NO ABLEISM, NO AGEISM, NO HOMOPHOBIA, NO TRANSPHOBIA, NO FATPHOBIA, NO CLASSISM.
Vienna Roller Derby is committed to creating a welcoming and inclusive environment. And ask for pronouns!
---
funded by the Vienna Anti-Discrimination Office for LGBTIQ Affairs / Queer Small Project Fund