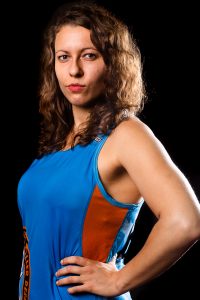 Name and number: Van der Storm #616
Favorite position: On track.
What's your specialty: Staying calm and strong.
How did you pick your Derby name: It's a mixture of the names of several inspiring people in my life and my affection for going for a run right before or after a thunderstorm.
Derby crush (who inspires you and why): There are lots of great skaters in this world. For me, tough, the most impressive people were my trainers at my first practice. I've never seen anyone that confident, cool, strong and crazy on skates before and I just thought to myself: I want to do this and I want to get there.
Favorite Bout preparation song: It's not just a song, it's the moment when the sun hides behind dark clouds, when the wind is blowing and a short but strong rain shower is going down with rolling thunder in the background. This, or everything from the Spice Girls.
Best Derby moment: First practice – first scrimmage – first bout. Right in that order. And all this together with the best team on earth.