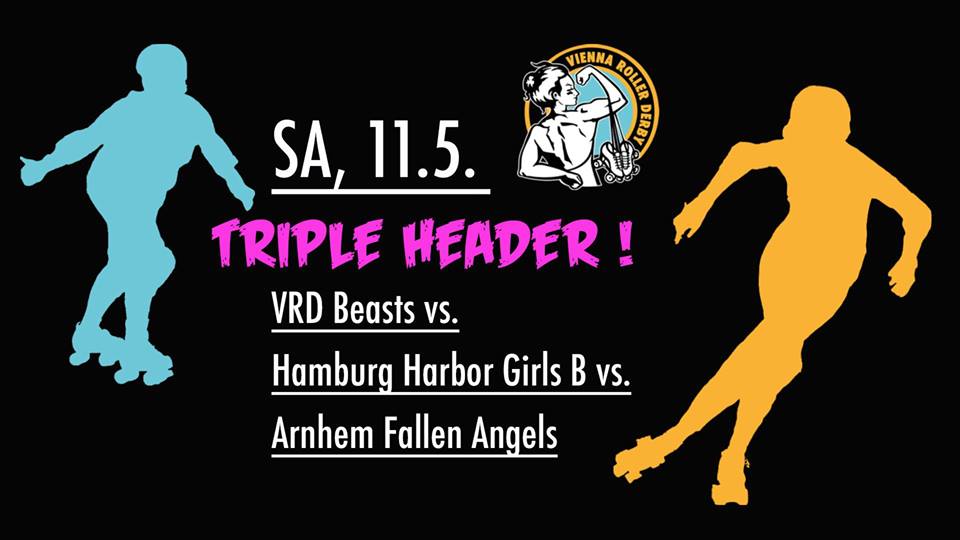 WE LOVE TRIPLE HEADERS
We cannot get enough of that Roller Derby Action, so our Beasts invited two teams from far far away to play our favourite game at home!
We welcome our guest teams who are rolling in Vienna for the first time: the notorious Harbor Girls Hamburg B from St.Pauli and the reckless Arnhem Fallen Angels from the Netherlands.
Three exciting games are waiting for you, Publikum !!!
***WHEN***
Saturday, 11th of May 2019, 12:15 to 19:00
***WHERE***
AHS Theodor Kramer
Theodor Kramer Straße 3, 1220
*** SCHEDULE ***
TBA
*** TICKETS ***
Online ticket sale starts Eastermonday, 22th of April, 9am.
Be on time to get one of our limited early bird tickets!
Link: https://ntry.at/hamburgharborgirlsarnhemfallenangels
LIMITED EARLY BIRD: € 9,78
NORMAL PRESALE DAYTICKET (Vorverkauf): € 13,04
(online ticket prices already include ticket fees)
AT THE DOOR: € 15
Be aware:
Roller derby can get pretty loud when the crowd goes wild by cheering on the teams.
Roller Derby wird aufgrund unseres enthusiastischen Publikums ganz schön laut.
Kids under 12 have free entry (caution: bring ear protection!)
Für Kinder unter 12 Jahren ist der Eintritt gratis (bitte Gehörschutz mitbringen)
No derby for dogs!
*** AT THE BOUT ***
* 3x Live roller derby action
* Live announcers
* Snacks/drinks homemade by VRD, friends & family
* VRD MERCH: t-shirts, caps, bags, scarfs, college jackets, braceletts and pins – we got one for everyone!
* Free bout program
SUPPORT YOUR LOCAL ROLLER DERBY.
Bring your friends & family and watch us skate!
With lots of DERBY LOVE,
your one and only VRD ♥
******************************
ACCESSIBILITY/BARRIEREN
We provide a space for wheel chairs and extra seats directly at the track. At the entrance to the track area there is a small step. There is another way to the track area though via the locker room of the players. We can help with both possibilities. Barrier-free toilet is available on the ground floor. Snacks/drinks are placed in the first floor without elevator but we are very happy to help out, please don't hesitate to ask our contact person at the entrance or contact us in advance for more info.