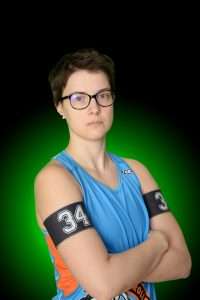 Name and number: Pepper Jules # 34
Favorite position: Out- or inside blocker
What's your speciality:
I am a quick learner and always motivated.
How did you pick your Derby name: My Grandfather always used to say that I capture other people with my pepper heart. Jules is because it is easier to pronounce than Julie
Derby crush (who inspires you and why): For me every single other derby player is an inspiration. But apart from that I really like to watch the strong play of Stefanie Mainey.
Favorite Bout preparation song: Chumbawamba – Tubthumping
Best Derby moment: The minute right before my first scrimmage against another team I was extremely nervous but then I heard "Five seconds" – focused – and loved roller derby even more!